Top Reasons to Apply For A Hotel Management Course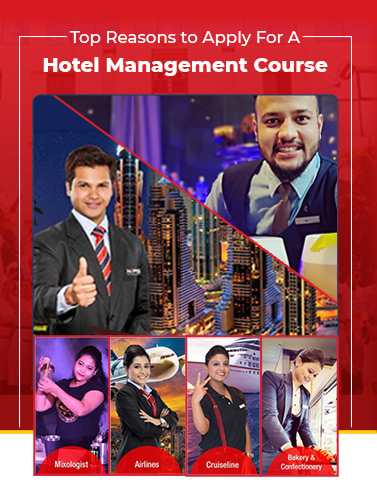 In an era dominated by traditional professions such as doctors and engineers, hotel management has silently taken the cake. To give you an idea, a research by Statista shows that the US hotel industry has nearly doubled its revenue from 2001 to 2017 and reached a whopping $208 billion.
If you want to establish a good career in hotel management, then it would be ideal to enroll in a hotel management course that will equip you with the required knowledge and skills. Not only will it give you an edge over others when applying for a job, but it will significantly boost your career prospects. Let us take a closer look at the top reasons to apply for a hotel management course.
Promising Career Prospects
Oftentimes we see that in other desk jobs, there is little progress in our career over the years. However, such is not the case when it comes to hotel management. Your career can continue to grow and evolve in the years to come. You may start out as a receptionist, but if you persistently perform well, you will eventually be promoted to higher positions such as junior manager, senior manager and departmental manager.
Diversity and Opportunity
Not only guests from all over the world come to stay at a hotel but even the staff is multicultural. Welcoming new guests each day comes with its own set of unique challenges and working with people from different ethnicities is a deep learning experience in itself.
Similarly, the opportunities in hotel management are endless too. If you like to travel, you can work for an international hotel chain wherein you can seek transfers to exotic locations such as hilly areas or coastal beaches. There is a lot of flexibility when compared to your normal 9 to 5 job.
Job Satisfaction
For someone working in the hospitality industry, your role would be to ensure each guest's stay at your hotel has been a pleasant experience overall; that they have not faced any issues during the course of their stay and are happy to come back anytime. When they leave positive feedback, good reviews and recommend your hotel to their network, you can rest assured that you have done a good job.
Unique and Creative
Enrolling in a hotel management course will teach you all the specific skills required for success in this field. Whereas in a bachelor's degree, you get basic knowledge of multiple topics but not enough to land you a good job. Since the hospitality sector is so unique in itself, it requires special care and training which is provided to students under this specialized hotel management course.
Similarly, due to its creative nature, you will need to brainstorm and come up with ideas such as a superhero-themed party for kids or a candlelight dinner night for couples.
Learn In-Demand Skills
By taking up a hotel management course, you will be privy to not only the hard skills such as knowledge, leadership and teamwork but also the very essential soft skills that recruiters look for in candidates. Since the ultimate success of any organization lies in the satisfaction of its customers, recruiters look for strong social and communications skills as well as a tactful attitude when dealing with customers.