Why Globally recognized college and World Class Faculty is important for a successful career in Hotel / Hospitality Management?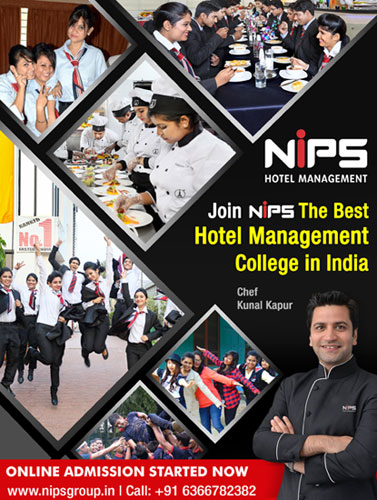 Good & Well Reputed college with good credentials provides a great platform for starting your career. A good college with experienced teachers makes a difference in the personality and academic growth of students.  The reputed college creates a sense of community that permits personal expression within a framework of social responsibility. It focuses on learning that grows through use such as communication skills, decision making, craftsmanship, and group interaction.  It makes students think of themselves as people who find strength, nourishment, and joy in learning.
The degree might open the door for a job interview, but what matters during the interview and career growth is college reputation and your skills learned in college and from experienced teachers.
NIPS Hotel Management College the No. 1 Institute in Hotel founded in the year 1993 and is recognized by 90 countries for outstanding teaching quality and placement. It is the frontrunner in the field of hospitality education, excelling in top of the line infrastructure, international placements, world-class highly qualified and experienced faculty; and has its presence in Kolkata, and other cities of India, and its students are placed all over the world.
NIPS has been recognized as "Asia's Greatest Brand", for the year 2019-2020.  It is the first hotel management college in India to receive the prestigious "Best International Placement Award", Bangkok, Thailand, 2019-2020.
The joining of International highly acclaimed Master Chef Judge Chef Kunal Kapur in NIPS faculty team added another glory and laurels to NIPS achievements.
NIPS is also proud recipients of  Best Institute of the year by CMO Asia Magazine, Singapore.  NIPS is also featured in Limca Books of records & World Record Academy.
The World Association of Chefs' Societies, a dynamic the global network of more than 100 chefs associations representing chefs at all levels and across all specialties worldwide awarded the Recognition of Quality Culinary Education Quality Mark to NIPS Hospitality Management.
NIPS is the only Institute in the Eastern Part of India to be accredited by Indian Federation of Chef Association, for successfully fulfilling the Quality Criteria in regard to Quality Culinary Training & Practices.
Students of NIPS are winners of several Chef Competition which includes the Great Indian Culinary Challenge held by Indian Express Group.
NIPS Hotel Management – Your Global Passport to dream International Successful Career Abroad