Top 5 Things To Know Before Entering The Hospitality Industry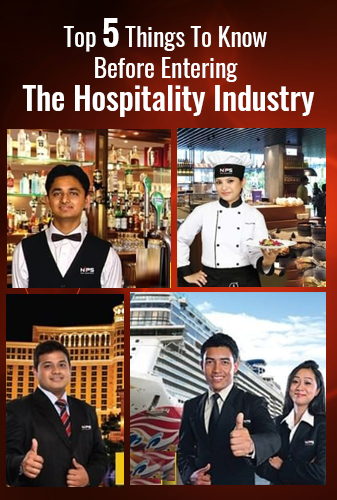 The hospitality sector has emerged as a highly profitable industry which has shown stable growth over the years and created a ton of job opportunities along the way. It is only natural that more and more students these days want to pursue a hotel and hospitality management course right after their high school and dive into this exciting and evolving career path.
In order to help you make an informed and thorough decision, here are 5 important things you must know before entering the hospitality industry-
Hospitality Is For Everyone
Unlike many specialised jobs in the primary or service sector which require a niche set of skills, hospitality is for everyone. Yes, no matter what your academic background is, you can enter this industry since there are so many diversified opportunities. You will be sure to find a job that aligns with your interests be it hotel management, culinary specialist or an event planner.
Hospitality Sector Is Fun
Working in the hospitality sector is a really fun and enriching experience. It has some great perks which are really difficult to get with any other job. Whether you are sitting at the front desk or in charge of overall housekeeping, everyday you learn something new. Besides, you are practically living in a 5 star establishment with amazing cuisine and frequent celebrity interactions. Who doesn't want that?
Not A Mundane 9-5 Job
I am sure by now you have figured out that hospitality and hotel management isn't your usual 9-5 job which may get monotonous at times. Every new day comes with it's own set of challenges. One day you could be planning a themed dinner party for your guests while the next day you are in charge of a child's birthday party. You must always be up for undertaking new things.
Endless Opportunities
Within the hospitality sector itself there are a ton of opportunities available be it entertainment manager, restaurant manager, sommelier or chef. But a common dream of every aspirant in this sector is to land a job abroad in a major tourist place such as Paris, Switzerland, London or Dubai. By securing your admission in a good hotel management institute, your chances of getting placed abroad increase manifold.
Huge Salary Package
Besides the great perks and diversified opportunities, the ever growing hospitality sector has great salary packages to offer. This is because the growth opportunities in this sector are much faster and lucrative than many other industries where it is slow and stagnant. If you are able to learn new skills and cope well with your day-to-day tasks, your career growth is absolutely certain.