5 Avoidable Mistakes While Selecting A Hotel Management Institute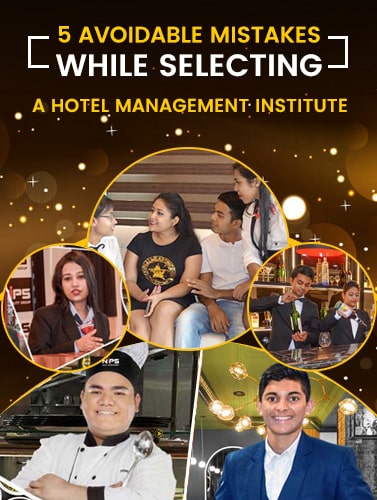 Every year, it just happens that immediately after the declaration of class 12 results, students and their parents start to scramble for the best colleges. Most of them find this journey of college hunt extremely tricky. Many have no idea of whether to start by making a list of renowned colleges or seeking advice from friends or colleagues. So, if you are finding yourself in the same shoes and looking for the best Institute of Hotel Management, make sure to avoid some mistakes. Let's discover the top five avoidable mistakes while selecting a Hotel Management Institute.
Not collecting ample information
Do not rush to make a choice. A wrong decision can ruin your entire career. Remember, choosing a college is a time-consuming process. Prepare a list of the various hotel management institutes within your city or state. Dig deeper as heavy reliance on rankings published in education magazines or information given on the website of those institutes may be misleading. You must try to find and interact with the alumni of the hotel management institutes that are featured in your list to get the right picture. From a career perspective, a lack of research can prove a grave mistake.
Paying attention to rumors
You may have heard rumors like pursuing a degree in arts is useless or that any hotel management institute with an excellent infrastructure guarantees academic brilliance. However, the reality is always different. You need to understand that you must not remain misguided or misinformed.
Skipping the campus tour
Believe it or not, a quick tour of your shortlisted college and that too without informing the college authorities is something that you should not skip. By opting for a campus tour, you can develop a brief understanding of its overall infrastructure, including library and kitchen facilities.
Following your friends
Many students opt for a specific institute only because their best friend has selected the same.However, you should not make the same mistake! Remember, every individual has different career goals and interests, and the criteria for which your friend has selected a college may not appeal to you.
Undue importance to non-essentials
A sprawling cafeteria,plenty of weekend activities and a pleasant ambiance are some of the non-essentials that often get undue importance and influence students to a vast extent. Instead, give importance to course details, fee structure, and faculty.
So, try to avoid these mistakes and make a well-informed decision. If you are in Eastern India, there is no shortage of hotel management institutes with multiple campuses, state-of-the-art infrastructure, and skilled faculty members. Just make sure that you select the best one to make the first move towards a flourishing career.