10 Things That Every Efficient Hotel Manager Does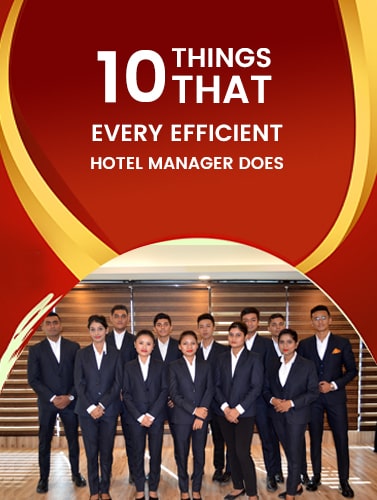 While the location, ambience, and amenities of a hotel are some factors that attract guests, it is significant to have an efficient hotel manager. A person who knows the hotel inside out. If the hotel manager is efficient, guest satisfaction is ensured, and revenues can soar like never before!
However, it demands expertise and a lot of soft skills. So, if you are someone aspiring to become a successful hotel manager one day, it is best to know the ten things that every efficient hotel manager does.
Exceeding guest expectations
An efficient hotel manager watches out for services offered by the competitors and looks for diverse ways to exceed the guest's expectations, which may include upgrading the room category without any additional charge, free wi-fi, complimentary beverages or even fruit baskets.
Creating personalized experiences
In a competitive landscape, hotel managers do everything in their might to make their guests comfortable by building a rich guest profile. Sometimes, they also ask their preferences about the type of room view or send them welcome gifts upon arrival.
Assigning the jobs to the right people
A hotel manager knows well that managing all the hotel operations is teamwork. So, a lot of effort goes into understanding the mindset of the team members and the right jobs are assigned to the right people.
Managing the brand and reputation
In a world influenced by social media, managing brand image or online reputation is indeed challenging. A hotel manager always keeps an eye on the guest reviews on online platforms and never ignore bad reviews.
Building a positive work culture
Having a positive work culture means high performance and increased employee satisfaction. So, an efficient hotel manager not only identifies the problem areas in daily operations but also take out time to reward the employees and maintains open communication with them.
Leveraging the power of the latest technology
Gone are days when free wi-fi was the only latest technology that the hotels could offer their guests. Now, hotel managers are constantly looking for new emerging technologies that have the potential to drive their business. Such technologies are also embraced for lessening the workload and operation management.
Regular communication with staff
Sharing victories or fears often encourages the staff members to share their problems without any reluctance. Hotel managers know this well and maintain regular communication with the hotel staff.
Working consistently to improve
There is always room for some improvement. So a hotel manager consistently tries to find out the areas in the various departments that may hinder the growth and fix them swiftly.
Staying calm under workload
A hotel manager works under immense pressure while maintaining a calm demeanour. Anger outbursts are always a solution. It can make the situation all the more difficult in a customer-centric environment.
Learning new languages
An efficient hotel manager understands that the hotel has to cater to guests from all over the world. So, a hotel manager invests time to pick new languages.
So, an efficient hotel manager does several things to ensure growth and all operations run smoothly.